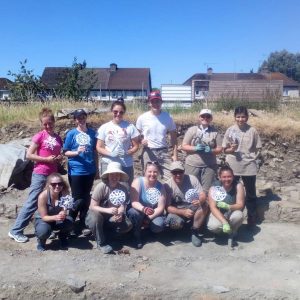 The Pay it Forward Scholarship Award
This scholarship award was created to honor a former student's Homestay Family and the Blackfriary Archaeology Field School. The Pay it Forward Scholarship Award was inspired as a way to recognize the cherished generosity received during the student's time with the Dinan Family and participation at the field school. The Dinan's are a compassionate, community-minded family, dedicated to selfless service. As participants of the Homestay in Trim program, the family opens their home and hearts to students from all of the world so that students may gain hands-on educational opportunities, while experiencing Irish culture and heritage. These attributes run parallel to the efforts at of the Blackfriary Archaeology Field School.
The Blackfriary Archaeology Field School is proud to offer a first-time field school student a 250€ award. This alternative-giving award is to help offset the cost of attending the field school the chosen recipient. Students are encouraged to submit a 100-300-word essay demonstrating their commitment to community outreach and the educational advancement of others, which embodies the family and field school's spirit of generosity and service.
For more information email info@bafs.ie.