Meet the Team
The team has been associated with the Blackfriary project since its beginning. The principal investigators, Finola O'Carroll and Dr. Rachel Scott have been researching and instructing on the site since 2010 and 2012 respectively. The co-director of the field school, Laura Corrway developed her archaeology career at the Blackfriary, starting out as a student. In 2013 both began teaching at the site. The current bioarchaeology supervisors, Nikki Long and Erika McMullin as well as post-excavation supervisor Mark McConnon are former students who have returned to bring their expertise to the team. This combined perspective of academics, researchers and teachers, and former students makes the teaching team unique. All of us are committed to the ethos of the project, to teach students to the highest standards but in a supportive, friendly way while maintaining best practice and ensuring that the learning experience is well-rounded and relevant to the students' needs.
Finola O'Carroll Principal Investigator, Excavation Director, Co-Founder and Director of the Blackfriary Archaeology Field School
Finola O'Carroll MA, MIAI, MRPA, holds the Ministerial Consent (Consent Number C420, Registration Number E4127) to excavate the Blackfriary site, issued by the National Monuments section of the Department of Culture, Heritage and the Gaeltacht. She was a co-founder of the Irish Archaeology Field School who were involved in the site from 2010 until 2017. Her research interests include metalworking and crafts in the Irish Bronze Age, Medieval landscapes and Monastic sites. She has over 30 years' experience in archaeology and started her career excavating at the Viking site of Wood Quay in Dublin while still a student. She worked with Professor George Eogan, excavating the passage tomb cemetery at Knowth in the World Heritage Site at Brú na Bóinne and assisted his research into the Irish Bronze Age. She joined Professor Gabriel Cooney in the Irish Stone Axe Project (ISAP), and from there worked with Dr. Eoin Grogan in the Discovery Programme's North Munster Project. In 1997 she set up the CRM consultancy CRDS Ltd. with Dr. Stephen Mandal. Numerous significant archaeological projects were carried out by CRDS and Finola had responsibility as Project Manager/Senior Archaeologist for many of them. In 2009 Stephen and Finola set up the Irish Archaeology Field School and since 2010 her principal focus has been on the excavations at Blackfriary.
From 2007 to 2009 Finola was a member of the board of the Institute of Archaeologists of Ireland, and was Chair from 2009 until 2012. She is a member of the Meath Heritage Forum on behalf of the Institute of Archaeologists of Ireland.
---
Dr. Rachel E. Scott Project Bioarchaeologist and Principal Investigator
Dr. Scott/Rachel is a bioarchaeologist and Associate Professor at the Department of Anthropology, DePaul University.
She has a Ph.D. in anthropology from the University of Pennsylvania, a Higher Diploma in Celtic Archaeology from the University College Dublin, Ireland, and a B.A. in Anthropology from the University of Chicago.
Her research interests include human osteology and paleopathology, European archaeology, and anthropological and archaeological theory. Her work addresses the interrelation of biology and culture in the creation of human lives, focusing on the case study of early Christian and late medieval Ireland. More specifically, she integrates human skeletal, archaeological, and historical data in order to examine the processes of identity formation and the social construction of disease.
Dr, Scott is currently involved in two field projects, as the director of a project on leper hospitals in late medieval Ireland and as the bioarchaeologist for the Blackfriary Archaeology Field School's excavation at the Black Friary in Trim, Co. Meath.
---
Laura Corrway MA, MIAI, Senior Excavation Supervisor, Co-founder and Director of the Blackfriary Archaeology Field School
Laura came to Blackfriary as a student in 2010 and has been excavating here every year since then, becoming a member of the teaching staff in 2013. She did her BA and MA in UCD, looking at the DeLacy castle in Carlingford, Co. Louth. She has a research interest in Medieval archaeology, castles in particular and has worked on a number of research excavations and on many commercial ones with consultancy firms. Together with Ian and Finola she has recently co-founded Trim Archaeology Projects Ltd.
---
Melissa Clark Bioarchaeology Supervisor
Melissa began her career in bioarchaeology at the Blackfriary in 2010 and has returned every year since, first as a student supervisor and now as both a bioarchaeology supervisor and graduate teaching associate for Ohio State.
She is a PhD candidate at The Ohio State University, where she graduated with a bachelor's degree in anthropology, a bachelor's degree in international studies, and a minor in forensic science. She earned her master's degree at the University of Bradford in osteology and paleopathology.
She has also worked as a supervisor in a Bronze Age excavation in Vrbanja, Croatia, with the Županja/Southampton Archaeology Project. Outside of archaeology, sheis a member of the Forensic Anthropology Case Team in Columbus, Ohio. Her dissertation investigates changes in health between late medieval and post-medieval Ireland. Her other research interests include dental anthropology, stable isotope analysis, bioarchaeology, and education pedagogy.
---
Nikki Long Bioarchaeology Supervisor
Nikki Long came to the Blackfriary as a student I 2012 while studying archaeology and biological anthropology at Boston University. She has a masters degree in Criminal Justice. She worked at the Peabody Museum of Archaeology and Ethnology at Harvard in the osteology collection, and now works at the Fort Collins Museum of Discovery in Fort Collins, Colorado. She works in CRM projects in Colorado as well.
---
Mark McConnon, Post-Excavation Supervisor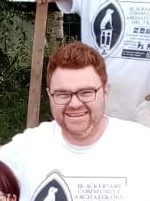 Mark McConnon is a professional archaeologist specialising in post-excavation processing, particularly ceramics. Mark graduated in 2018 with a BA in archaeology and history from Dundalk Institute of Technology. His thesis focused on an archaeological and historical landscape study of the Louth Hall Townland. Mark has worked with the Blackfriary project since 2015 as well as many other commercial archaeology projects since graduating. His research interests lie in artefacts, archaeological landscapes and local history.
---
Jane Robinson, Administrator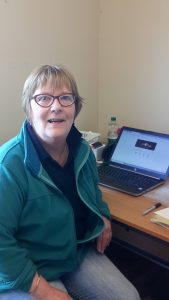 Jane Robinson joined the team as office administrator in 2019 with a background in office management, administration and accounting. Jane has deep interest in community heritage and archaeology and manages many of our community events with the public. Jane also has responsibility for managing the excavation archive and logistics during the digging season.
---
"I attended the Blackfriary field school through the Institute for Field Research during the summer of 2014 after completing my undergraduate degree at Vassar College and I cannot express fully what a good decision that was. The rotation through every aspect of fieldwork conveyed a thorough, practical knowledge that every student considering archaeology or other field science should experience. The leaders and site crew were integral to the experience- fun and funny and highly dedicated to the site and to rigorous work. Based on the number of students and years the field school has been in operation, I am convinced there are less than six degrees of Blackfriary. Many thanks to everyone involved for their dedication to training new generations of archaeologists. Whether you continue in the field or not, you will carry the lessons of the field school wherever you go." Veronica Peterson Student 2014
"I interned at the Blackfriary Archaeology Fieldschool for ten weeks in the summer of 2017. I can say without a doubt that this was equally one of the most exciting and educating experiences of my life. I was daunted at the prospect of living in a new country an entire ocean away from home. But the minute you step on site at the Blackfriary all your doubts are erased. The staff is an astounding collection of the most genuine, welcoming and knowledgeable people you will meet in Ireland. I……. was able to seamlessly join the program under the guidance of remarkable supervisors and eventually gained enough archaeological expertise to help run the site. My internship at the Blackfriary was an unforgettable experience that left me with lasting friendships, connections and wonderful memories." Becca Cuntala Intern 2017