**Now Enrolling for Summer 2022**
We are delighted to announce that we are now enrolling for Summer 2022. Our digging season runs from May to August and includes course in Excavation, Survey, Environmental archaeology and Bioarchaeology! See our courses page for more information!
***************************************************************************
Learn archaeological field methods in a friendly supportive environment in an excellent, long established Field School at the Blackfriary, Trim, Co. Meath, Ireland.
Welcome to the Blackfriary Archaeology Field School. 2022 will be the twelfth season of digging at this site where we have been providing the highest standards of teaching and training since 2010.
Our goal is to continue delivering a wonderful experience to all interested students, visitors, lifelong learners and enthusiasts at the Blackfriary. Already, so many have started their field careers or realised their dream of taking part in an excavation at this medieval friary in the heritage capital of Ireland. It's our ambition to help as many people as possible experience the adventure that digging up the past has to offer, while being taught how to record it for future generations. Our location in Co. Meath means that you are perfectly placed to see the many wonderful heritage sites which bring our past to life in Ireland's Ancient East. https://www.irelandsancienteast.com/
"Great people, great site, great experience! This is a place that changes lives!" Professor Alison Beach OSU Course Director 2013-2019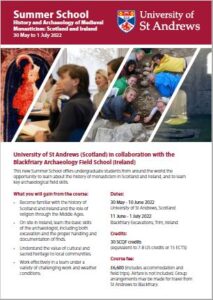 St Andrews University Collaboration
This year, in 2022, we are delighted to announce a new partnership and collaborative course with St Andrews University, Scotland. This course will be led by Medieval History Professor Alison Beach from the School of History at St Andrews and the Blackfriary Archaeology Field School Staff.
The History and Archaeology of Medieval Monasticism: Scotland and Ireland
This five-week course offers students the opportunity to experience the history of medieval Scotland and Ireland first-hand. The course will comprise two weeks of study in St Andrews and three weeks at the Blackfriary in Trim, Ireland participating actively in the excavations of a thirteenth-century Dominican priory. Course also includes travel to various monastic sites in Scotland and Ireland. The course will include both traditional classroom-based lectures and seminars and archaeological training and experience.
Apply here: https://www.st-andrews.ac.uk/study-abroad/at-st-andrews/global-summer-school/medieval-monasticism/?fbclid=IwAR0BboBSeXibiakqsZ0n-ujDQTW4pZmKwCYiXm98ZVm3LliTW6FH6gdHr2g
---
The Field School Experience at Blackfriary!
Wondering what it's like to to come to Blackfriary? In 2021, we decided to ask some of our students and staff about their experience at the Blackfriary excavations, here is what they had to say.

Click on the video below to view our YouTube channel.